It is not easy to find hidden and surprising reasons for erectile dysfunction because the internet is full of the same conventional information rather than unique hidden reasons for ED. I believe, till now you haven't got any concrete reason for your erectile dysfunction and you have started digging more to find the root cause of your ED.
Am I sound right?
Do you spend considerable time on the net to find your reason for impotence?
So, in my view, most of the people fail to find the exact cause of their ED, mostly if they are healthy and sound. Erectile dysfunction in young men is considered a myth. I was one of them who tried 3 long years to find the root cause of my weak erection problem but all in vain.
The real truth is, finding the exact cause of impotence in healthy men is nearly possible as finding the border of the universe because our body is equally stranger than the universe itself.
If you have any chronic major ailment like diabetes, High blood pressure, and congenital heart problems, then you may relate it to your weak erection problem. Having said that, sedentary lifestyles, depression, stress, and performance anxiety can also act as a catalyst in worsening the problem.
So, you don't have any of the above-mentioned reasons for erectile dysfunction? Have you been to Penile color doppler test to find the flow of blood in the penis?
Still, you didn't find any visible reason for impotence,
then here I am listing some of the surprising reasons for erectile dysfunction.
12 Surprising reason for erectile dysfunction in 2020 are:-
ED Reason #1 – Bicycle: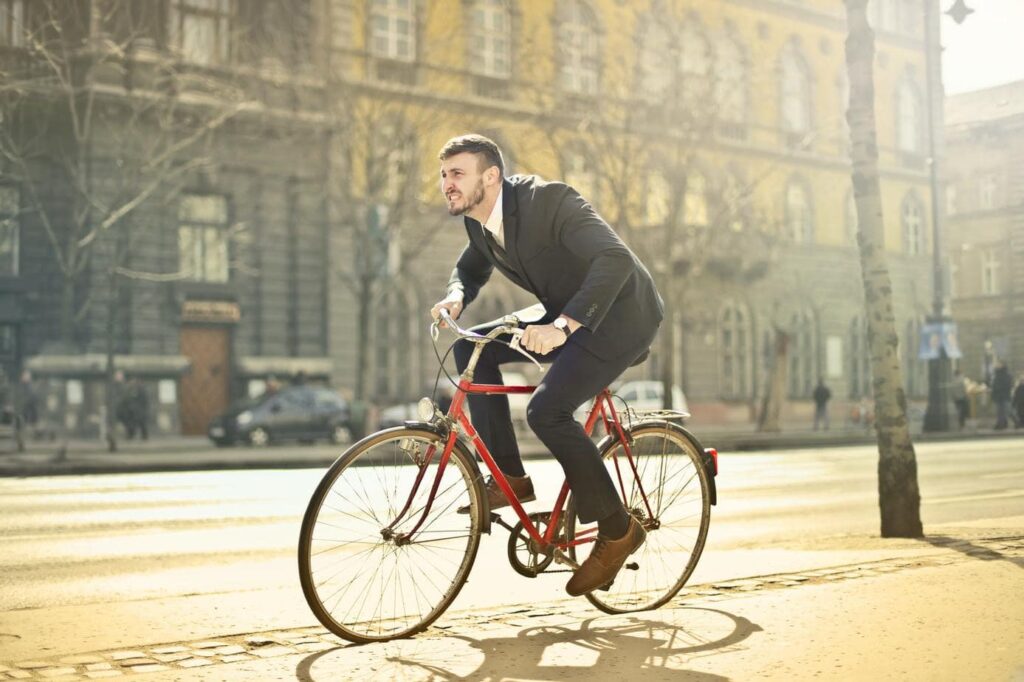 Do you love riding a bicycle? The study says biking may be causing your ED. Long hours sitting on the saddle without moving or changing place compresses the nerves and blood vessels, resulting in nerve damage which could be causing your ED.
Have you ever noticed that long hour cycling is causing tingling feeling then it's time to change your riding position or better change a comfortable saddle.
Take a break during long drive sessions.

That's why I ride the bike and not bicycle
ED Reason #2 – Peyronie's disease:
It is the bending of the penis abnormally due to the fibrous scar tissue that develops in the penis and causes it to curve. Repeated penile injuries either during sex or physical activities may be the cause of your Peyronie's disease.
This curvature can make your erection painful. As a result, this curvature restricts the proper blood flow in the penis. A 10-degree curvature may not cause your ED but a 30-degree and more curvature could significantly affect your erection quality.
Erectile dysfunction (ED) is frequently associated with Peyronie's disease. Published reports indicate that between 30 to 80% of men may have ED associated with this disease and up to 50% may have ED before they develop Peyronie's disease
So boys, check your curvature with a protractor.
ED Reason #3 – Hair loss Treatment:
Do you know about finasteride? It's a drug used to treat male pattern baldness (though we know deep down that hereditary hair loss cannot be treated by such chemical. In other words, if this is possible then I would have saved my hair :)).
Finasteride is infamous for reducing the libido and causing erectile dysfunction in men. Libido is very important to achieve an erection and finasteride reduces the amount of testosterone circulating in the blood.
Testosterone is a male sex hormone that helps in sex drive.
If you love your sex life, better shave your head to reduce your hair loss than using finasteride (I have been doing this every year, LOL) and refrain using such chemicals without any proper study.
Do not put any chemical on your head bro, better shave your head.
ED Reason #4 -Partner's infidelity/death:
You would be knowing that a proper erection needs a calm and stress-free mind. Psychological factors can play a major role in your sexual performance. I have spoken to some people who called me for counseling, they told me that they have been experiencing ED since their partner's separation or infidelity.
Also, if your wife/partner spending more time with her male friends increases the chances of erectile dysfunction to many folds.
It is most probably related to the masculinity of men and they suddenly started feeling weak erection. So, I suggest spending more time with your partner.
I was ditched twice in my life. Cheating is widespread in our society and cannot be prevented. Lolwa)
ED Reason #5 – Porn:
Porn induced erectile dysfunction is a very controversial topic. Some researchers suggest that porn can actually help you with ED and some claim that it might cause ED significantly.
Basically, after speaking to many guys I am convinced that porn can cause ED and I have seen some guys getting benefits with their erection quality after quitting porn.
Pornography could change the way your brain reacts to sexual stimulation making you less aroused with your real partner.
It rewires your definition of arousal and makes you more susceptible to erectile dysfunction. I have similar experiences with pornography and abstinence from watching porn is way better to prevent yourself from the danger of ED. This could be your reason for impotence
ED Reason #6 – Body Image:
This is quite rare but possible. If you don't find your image of a complete man then it may be causing your ED. How you feel about your body, helps you in building your confidence.
Chances of ED arise when you feel you are not gifted with good looks but your partner is way more beautiful than you deserve.
So, better would be to accept the way you look and don't let impotence influence your sexual function. Isn't this is a surprising reason?
ED Reason #7 – Prostate Cancer:
Though prostate cancer or urinary tract problems can't directly affect your erection quality treatment for the disease may cause a problem. The prostate problem is more common in older men.
If you frequently need to urinate and cannot hold your urine for a longer duration, this may be because of prostate enlargement.
Studies have shown weak erection problems in men after the removal of prostate glands in prostate cancer treatment. The severity of ED depends on the type of surgery, stage of cancer, and skill of the surgeon.
ED Reason #8 – Asexuality:
An asexual person is one who is not sexually attracted to any of the sexes. Some men keep on lying to themselves that they are straight and try forcing themselves in a relationship because of social outlook.
This never works because erection occurs when you are sexually stimulated and lack of arousal means no or weak erection at all. Are you gay or asexual? This may be causing your erection problem.
This is one of the most hidden surprising reasons for erectile dysfunction
ED Reason #9 – Spinal cord injury:
The spinal cord contains the vital nerves that control the reflex action and erection of men. Spinal cord injury affects many parts of the body.
Your spinal cord injury has most likely changed your sexual function. This can include your ability to achieve an erection, maintain an erection, or achieve orgasm.
Your erection is the combination of blood flow to the penis and nerve stimulation. So, the gravity of your erection problem depends on your severity of spinal cord injury.
ED Reason #10 – Paralysis/Injury or disease:
Paralysis affects your sexual health significantly. This is one of the primary reasons for impotence. You suffer both physically and psychologically. After some diseases or injury, you face challenges in sexual activity.
Though the degree of sexual function depends heavily on damages caused by injury or paralysis, you still be able to 'get it up', the erection may not be hard enough or last long enough for sexual activity.
ED Reason #11 – Pelvic muscles:
The muscles in our pelvis play a critical role in our ability to have sex!. Pelvic floor muscles that are too rigid and short limits the blood flow into the shaft of the penis and put pressure on nerves that supply sensation to the penis.
This can be treated by kegel exercise which will be our separate topic later.
If you feel pain in the pelvic region then this could be your reason for erectile dysfunction.
ED Reason #12 – Unknown Cause: (My surprising Reason for erection dysfunction)
From my experience, I must share with you that there are so many unknown reasons which are still hidden from medical science and science needs more time to unearth it. If you couldn't find your reason then you fall into this category. Your case is very similar to mine. I left no stone unturned to find the real cause of my impotence to enable me to work on a specific reason but couldn't find anything compelling. ECG, Penile doppler, Penis MRI you name it, I tried everything.
In my view, penis design is very intricate and it has thin arteries, veins, and nerves. These thin blood vessels get damaged and could not recover because of some unknown reason. This leads to blood flow loss to the penis and poor response because of damaged nerves. You may not be able to find these damages by any tests. Getting an erection is quite an involved process, and many things need to go right for this process to happen.
(Did you find your surprising reasons for erectile dysfunction? Don't be disappointed if you are tired of finding your cause. I was disheartened too but ultimately find a way to solve my erectile dysfunction)
FAQs on erectile dysfunction:
What is the main cause of erectile dysfunction?
Ans – Most common causes of impotence are diabetes, stroke, vascular system issue, and high blood pressure. If you are young and healthy and have no chronic disease, then you may not be able to find the exact reason for your ed.
What is the main cause of erectile dysfunction?
Ans – Though it is highly unlikely but cannot be ruled out. In some cases, people who are not sexually attracted to their partners, experience erectile dysfunction. However, they get good erection with other partners. Erection starts with a chemical reaction in your brain. If you are not attracted to your partner then it could cause psychological ED. Lack of attraction may play some psychological issue which results in the inability to achieve and maintain an erection. There are some surprising reasons for erectile dysfunction too.
How can I get hard fast without pills?
Ans – Frankly speaking, getting a hard erection instantly when the cause of your ED is physical is near to impossible. Other medications like Viagra and Cialis would be more helpful than any natural remedy. Your erection reflects your overall body health. So getting a hard erection naturally is not an instant process but a long term work where you have to work hard to improve your overall health.
Hi, I'm Abhay Singh. The creator of this blog edbyebye and howtocuremyed.
I suffered from erectile dysfunction in my mid-20s. I could not believe my misery and bad luck.
EDbyebye reflects my experiences and knowledge I acquired during my suffering period. It explains how I tried various remedies and treatments and how I finally found a permanent solution.
EDbyebye is my way of sharing my experiences and guiding you to find your treatment.
Join our community and share your valuable thoughts.